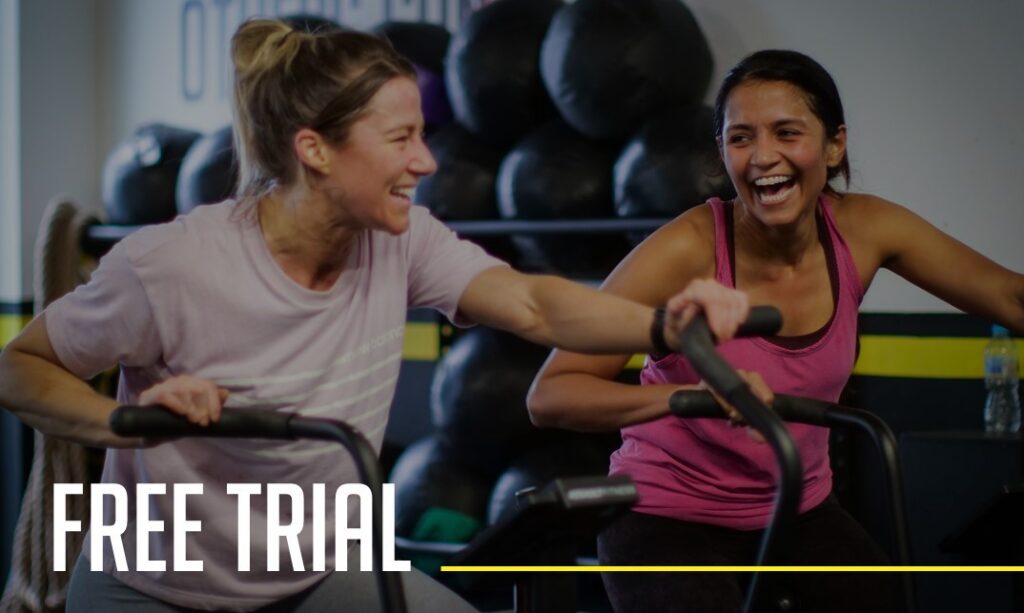 Coached training sessions – train with a coach to ensure you get the best from your training
Progressive Training Plan  – improve your fitness, strength & physique with a structured programme that's tailored to you
All abilities welcome – whether it's your first time training or you're a pro, our coaches adapt the workouts to your level!
Community support – having the support from our coaches and community who on the same journey as you is a game changer to keep you going for the long term
Safe environment – You'll have your own workstation and own equipment which is sanitised before and after use, with capacity strictly limited to stay fully COVID secure
claim your FREE
7-Day Pass
Coached workouts adapted to you
Progressive training plan
All abilities welcome!
* We won't share your personal information with anyone. *
We're so excited to be reopening and would love to invite you to come and try our training… for free!
Due to our social distancing rules capacity is strictly limited, so don't miss out on this chance to work with our trainers.
STRUCTURE, GUIDANCE
& SUPPORT
At Movement Labs you're guided by passionate coaches and supported by an encouraging community of members every day. 
We want you experience all of this when you start, so you'll begin by spending a full week with us for free, to try multiple sessions, meet different coaches and bond with your peers.
Our training is adapted for people of all ages and abilities so it doesn't matter if it's your first time training, we'll look after you! 
Equally, if you are fit and active, in regular training or have tried CrossFit style workouts on your own or at another facility, we will find a way to challenge you on your level to make sure you continue to progress.
Social distancing is in place from start to finish: you have your own personal workspace and sanitised equipment for the whole session.
I work just round the corner at a shared working space. It started with just 1 or 2 of us coming down and now it's 6 of us coming for lunchtime sessions. It's been quite easy to quantify the impact. We'll often get a lot more out of our afternoon of work than we would if we hadn't have come to train at Movement Labs.
Having gone to a gym and seen the weights section, it's quite a hostile environment. But the nice thing here at Movement Labs, is that they instantly make you feel part of the family. All the workouts are scaled, so whether you started last week or you've been coming for 5 years, it can still be fun for everyone.
I've been a member of various gyms over the years, but it always dropped away. I found myself needing something a bit different. That's when I discovered Movement Labs. I've been training CrossFit here for about 18 months now. I don't notice that I'm losing weight and getting stronger, but other people do. I get complimented at the transformation that I've undergone whilst training here.
I've always done long distance running, but I felt I needed a new challenge. It took me about 8 months to work up the courage to give this a go, but once I did I seriously never looked back. I was pleased by how scaleable it is. I definitely think that CrossFit is a good thing for people to be doing at any age. I think it's important to maintain fitness especially as you get older. It's one of my main motivating factors that I want to be really strong and fit when I reach 70.
I've been involved in fitness for the last 5-6 years or so and it's only really since coming here that there's been a significant increase in my understand of exercise. You get a better awareness of your body and the education aspect combine to make a workout class that's fun, safe, but most importantly makes you want to come back more and more. In fact, it's probably one of the highlights of my day!
18 months ago I came here as 300lbs and now I'm about 200lbs. It's a complete fallacy that this is just for people who are already in great shape. I was in terrible shape when I started. Movement Labs provide a structure in terms of getting fit, helping me de-stress, providing me with discipline and the determination I need to improve my diet and maintain good healthy habits. That and the support makes a big difference. Movement Labs is the catalyst that has helped me to change my life!
Coached workouts adapted to you
Progressive training plan
All abilities welcome!
* We won't share your personal information with anyone. *